magnetic induction heating system
Categories: high frequency induction heating, induction brazing machine, Induction Hardening Machine, Induction Power Supply, Medium Frequency Heating Machine
Tags: high frequency induction heater, IGBT induction heating system, induction brazing heater, Induction Brazing Machine, induction forging machine, induction heater manufacturer, induction heating device, Induction Heating equipment, Induction Heating Machine, induction heating system, induction melting machine, magnetic induction heater, magnetic induction heating system
Description
IGBT magnetic induction heating system
Main characteristics:
IGBT module and inverting technologies, better performance ,higher reliability an lower maintenance cost;
100% duty cycle, continuous working is allowed at maximum power output;
constant current or constant power status can be selected accordingly to achieve higher heating efficiency;
display of heating power and heating current and oscillating frequency;
multi-display functions, with displays of over current, over voltage, water failure, phase failure and unfit lad and so on, machine can be protected from destroys and machines can be repaired easily.
simple to install, installation can be done by unprofessional person very easily, connection water and power can be finished in a few minutes.
light weight, small size.
different shape and size of induction heating coil can be changed easily to heat different parts.
advantages of the model with timer: the power and the operating time of the heating period and retain period can be preset respectively, to realize a simple heating curve, this model is suggested to use for batch production to improve the repeatability.
the separated models are designed to fit the dirty surroundings, the generator can be put in a clean space to increase the reliability; with the small size and light weight of the separated transformer, it is convenient to use in the production line and easily assembled inside the machinery or moved mechanism.
Series
Model
Input power Max
Input current Max
Oscillate frequency
Input Voltage
Duty cycle
M.F

.

DW-MF-15 Induction Generator
15KW
23A
1KHz-20KHz According to the application
3phases380V±10%
100%
DW-MF-25 Induction Generator
25KW
36A
DW-MF-35Induction Generator
35KW
51A
DW-MF-45 Induction Generator
45KW
68A
DW-MF-70 Induction Generator
70KW
105A
DW-MF-90 Induction Generator
90KW
135A
DW-MF-110 Induction Generator
110KW
170A
DW-MF-160 Induction Generator
160KW
240A
DW-MF-300 Induction Generator
300KW
400A
DW-MF-45 Induction Heating Rod Forging Furnace
45KW
68A
1KHz-20KHz
3phases380V±10%
100%
DW-MF-70 Induction Heating Rod Forging Furnace
70KW
105A
DW-MF-90 Induction Heating Rod Forging Furnace
90KW
135A
DW-MF-110 Induction Heating Rod Forging Furnace
110KW
170A
DW-MF-160 Induction Heating Rod Forging Furnace
160KW
240A
DW-MF-15   Induction Melting Furnace
15KW
23A
1K-20KHz
3phases380V±10%
100%
DW-MF-25   Induction Melting Furnace
25KW
36A
DW-MF-35   Induction Melting Furnace
35KW
51A
DW-MF-45   Induction Melting Furnace
45KW
68A
DW-MF-70   Induction Melting Furnace
70KW
105A
DW-MF-90   Induction Melting Furnace
90KW
135A
DW-MF-110 Induction Melting Furnace
110KW
170A
DW-MF-160 Induction Melting Furnace
160KW
240A
DW-MF-110 Induction Hardening Equipment
110KW
170A
1K-8KHz
3phases380V±10%
100%
DW-MF-160Induction Hardening Equipment
160KW
240A
H.F

.

DW-HF-15 Series
DW-HF-15KW
15KVA
32A
30-100KHz
Single phase 220V
80%
DW-HF-25 Series
DW-HF-25KW-A
25KVA
23A
20K-80KHz
3phases380V±10%
100%
DW-HF-25KW-B
DW-HF-35 Series
DW-HF-35KW-B
35KVA
51A
DW-HF-45 Series
DW-HF-45KW-B
45KVA
68A
DW-HF-60 Series
DW-HF-60KW-B
60KVA
105A
DW-HF-80 Series
DW-HF-80KW-B
80KVA
130A
DW-HF-90 Series
DW-HF-90KW-B
90KVA
160A
DW-HF-120 Series
DW-HF-120KW-B
120KVA
200A
DW-HF-160 Series
DW-HF-160KW-B
160KVA
260A
U.H

.

F

.

DW-UHF-4.5KW
4.5KW
20A
1.1-2.0MHz
Single phase220V ±10%
100%
DW-UHF-6.0KW
6.0KW
28A
DW-UHF-10KW
10KW
15A
100-500KHz
3phases380V±10%
100%
DW-UHF-20KW
20KW
30A
50-250KHz
DW-UHF-30KW
30KW
45A
50-200KHz
DW-UHF-40KW
40KW
60A
50-200KHz
DW-UHF-60KW
60KW
90A
50-150KHz
Applications
1.Heating (hot forging, hot fitting and smelting)
Induction Hot forging aims to fabricate the work pieces of certain temperature (different materials require different temperatures) into other shapes through forging press with the help of punch press, forging machine or other equipments, for instances, hot extrusion of watch case, watch flan, handle, mold accessory, kitchen and table ware, art ware, standard part, fastener, fabricated mechanical part, bronze lock, rivet, steel pin and pin.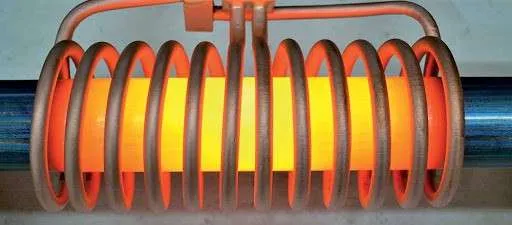 Hot fitting refers to the connection of different metals or metals with nonmetals through the heating based on the principle of hot expansion or hot smelting, for instances, embedded welding of copper core of computer radiator with aluminum sheet and speaker web, compound of steel and plastic tube, sealing of aluminum foil (tooth paste peel), motor rotor and sealing of tubular electric heating element.
Smelting mainly aims to melt the metal into liquid by using the high temperature, which is mainly applicable to the smelting of iron, steel, copper, aluminum, zinc as well as various noble metals.
2.Heat Treatment (surface quench)
Quench for various hardware and tools, such as plier, wrench, hammer, ax, screwing tools and shear (orchard shear).
Quench for various automobile and motorcycle fittings, such as crankshaft,   connecting rod, piston pin, chain wheel, aluminum wheel, valve, rock arm shaft, semi drive shaft, small shaft and fork.Various electric tools, such as gear and axes.
Quench for machine tools, such as lathe deck and guide rail.
Quench for various hardware metal parts and machined parts, such as shaft, gear (chain wheel), cam, chuck and clamp etc.
Quench for hardware molds, such as small-size mold, mold accessory and inner hole of mold.
3.Welding (braze welding, silver soldering and brazing)
Welding of various hardware cutting tools, such as diamond tool, abrasive tool, drilling tool, alloy saw blade, hard alloy cutter, milling cutter, reamer, planning tool and solid center bit.
Welding of various hardware mechanical gadget: Silver soldering and induction brazing of metals of the same variety or different varieties, such as hardware toilet and kitchen products, refrigerating copper fitting, lamp decoration fitting, precision mold fitting, hardware handle, eggbeater, alloy steel and steel, steel and copper as well as copper and copper.
Compound pot bottom welding is mainly applicable to the braze welding of circular, square as well as other irregular plain pot bottom. It is also applicable to plain braze welding of other metals.
Welding of heating disc of electric hot-water kettle mainly refers to the braze welding of stainless steel flat base, aluminum sheet and tubular electric heating elements of various forms.
3.Annealing (tempering and modulation)
Annealing of various stainless steel products, such as stainless steel basin, annealed and extruded can, annealed folded edge, annealed sink, stainless steel tube, tableware and cup.
Annealing of various other metal work pieces, such as golf ball head, cue, brass lock, hardware copper fitting, kitchen knife handle, blade, aluminum pan, aluminum pail, aluminum radiator and various aluminum products.
Induction Heating Principle
Frequency conversion electromagnetic induction heating or induction heating for short is a method for heating metal materials by converting power frequency power supply into that of specific range based on the principle of electromagnetic induction. It is mainly applicable to the metal hot working, heat treatment, welding and melting. This type of heating technique is also applicable to packing industry (such as sealing of aluminum foil used in medicine and food industry), semiconductor material (such as extruded monocrystalline silicon and heated affixing metal parts for auto glass).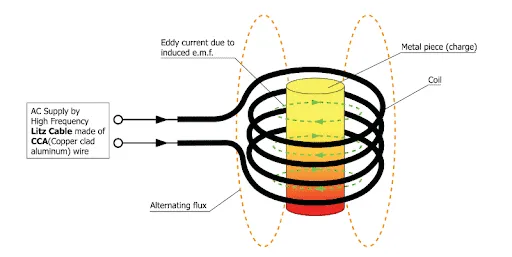 Basic of induction heating system include induction coil, AC power source and work pieces. Induction coil can be fabricated into different shapes as per different heated objects. The coil is connected with the power source providing alternating current for coil. The alternating current possessed by the coil can create a alternating magnetic field passing through the work pieces to produce eddy flow as required by heating.
Advantages of manetic induction heating system
Fast heating: the minimum rate of heating is less than 1 second (rate of heating is available for adjustment and control).
Wide coverage of heating: it can be used to heat various metal parts (replace removable induction coil as per different operating switches).
Easy installation: it can be used once it is connected with power source, induction coil as well as water supply pipe and rising pipe; it is small in size and light in weight.
Easy operation: you can learn to operate it within several minutes.
Fast start-up: it can be started to perform heating operation on condition that water and power supply is available.
Low power consumption: As compared with conventional vacuum tube high frequency equipments, it can save the power by approximately 70%. The smaller the size of the work piece is, the lower power consumption would be.
High effectiveness:it has such features as uniform heating (it is applicable to adjust the spacing of the induction coil to ensure the appropriate temperature as required by each part of work piece), fast warming and limited oxic horizon, and can guard against any waste after annealing.
Comprehensive protection:it has such functions as overpressure, over-current, overheat and water shortage alarm indications as well as automatic control and protection.
Controllable temperature: it is applicable to control the temperature for heating work pieces as per the preset heating time, and thereby control the heating temperature at a certain technical point.
Comprehensive full load design: it can work continuously for 24 hours.
Small size and light weight: it has a weight of only several dozens of kilograms, of which, the limited floor space can effectively save the workshop space.
Elimination of high voltage: it requires no step-up transformer which may produce approximately ten thousand voltage, and thus can ensure the maximum safety.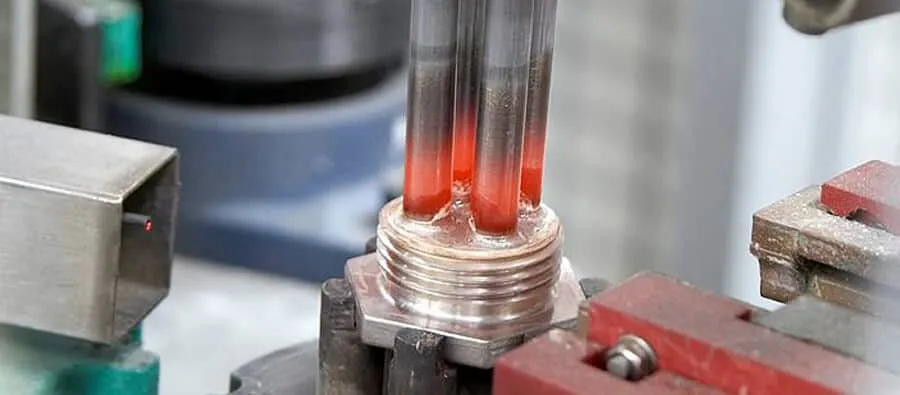 Product Enquiry