Induction Heating is a flame-free, no-contact heating method that can turn a precisely defined section of a metal bar cherry red in seconds.when alternating current flows in the induction coil, varying electromagnetic induction field is set up around the coil, circulating current(induced, current, eddy current) is generated in the workpiece(conductive material), heat is produced as the eddy current flows against the resitivity of the material.
Induction heating is a rapid ,clean, non-polluting heating form which can be used to heat metals or change the conductive material's properties. The coil itself does not get hot and the heating effect is under controlled. The solid state transistor technology has made induction heating much easier,cost-effective heating for applications induction brazing,heat treating,induction melting,shrink fitting,induction forging etc.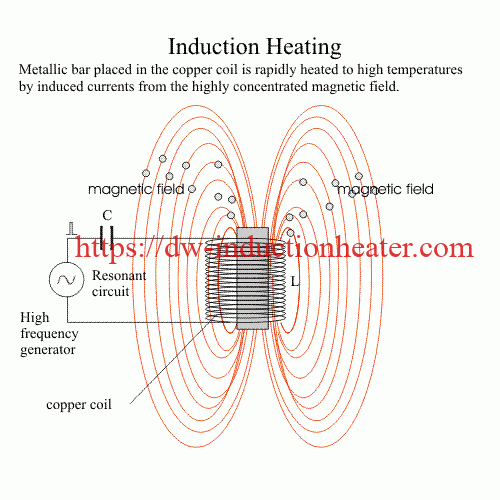 Induction heating takes place in an electrically conducting object (not necessarily magnetic steel) when the object is placed in a varying magnetic field. Induction heating is due to the hysteresis and eddy-current losses.
Precisely designed induction coils teamed up with a powerful and flexible induction power supply produce repeatable heating outcomes specific to the desired application. Induction power supplies designed to accurately quantify material heating and respond to a material's property changes during the heating cycle make achieving diverse heating profiles from a single heating application a reality.
The purpose of induction heating may be to harden a part to prevent wear; make the metal plastic for forging or hot-forming into a desired shape; braze or solder two parts together; melt and mix the ingredients which go into the high-temperature alloys, making jet engines possible; or for any number of other applications.