High Frequency Induction Heater DW-HF-15
Description
High Frequency Induction Heater DW-HF-15KW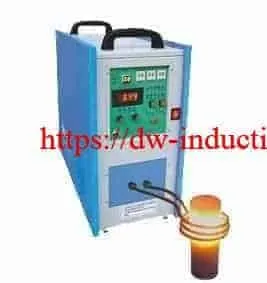 Main characteristics:
IGBT module and inverting technologies, better performance ,higher reliability an lower maintenance cost;
100% duty cycle, continuous working is allowed at maximum power output;
constant current or constant power status can be selected accordingly to achieve higher heating efficiency;
display of heating power and heating current and oscillating frequency;
multi-display functions, with displays of over current, over voltage, water failure, phase failure and unfit lad and so on, machine can be protected from destroys and machines can be repaired easily.
simple to install, installation can be done by unprofessional person very easily, connection water and power can be finished in a few minutes.
light weight, small size.
different shape and size of induction coil can be changed easily to heat different parts.
advantages of the model with timer: the power and the operating time of the heating period and retain period can be preset respectively, to realize a simple heating curve, this model is suggested to use for batch production to improve the repeatability.
the separated models are designed to fit the dirty surroundings, the generator can be put in a clean space to increase the reliability; with the small size and light weight of the separated transformer, it is convenient to use in the production line and easily assembled inside the machinery or moved mechanism.
| | |
| --- | --- |
| Model | DW-HF-15kw induction heater |
| Work power | single phase 220V/50-60Hz |
| Working voltage(AC) | 180V-250V |
| Max. output power | 15 KW ( power can be adjusted 3-15KW) |
| Oscillation frequency | 10-80 KHz |
| Max. output current | 42A |
| Efficiency | 90% |
| Continuous load rate | 100% |
| Cooling water flow | 5L/min(0.1mpa) |
| Cooling water pressure | >0.2Mpa |
| Size Length*width*height | 500*240*450mm |
| Water temperature protection | < 40°C |
| Packing Size | 610*620*340mm , 0.13CBM |
| Gross weight | 40kgs |
| Packages | one wooden case (plywood) |
| Transport method | by air ,by DHL or by sea |
Main applications:
heat treatment of gear and shaft
brazing of diamond tools
brazing of electrical kettle bottom
tube heating for coating
heating of stainless steel vessel for annealing
brazing of machining tools
melting of all kinds of metals
brazing of copper & brass tube and connectors in air conditioner manufacturing factories and so on.
heating of rods for forging
quenching of parts. Etc.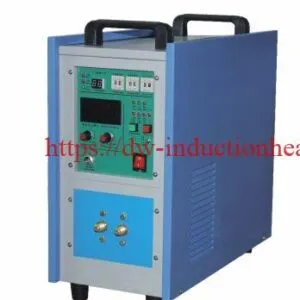 Product Enquiry