300KW medium frequency IGBT induction heating power supply
Description
Top medium frequency IGBT induction heating power supply manufacturer,IGBT medium frequency induction heating device,IGBT medium frequency induction heating system,solid state medium frequency induction heating machine supplier.
Main specifications:
Maximum input power: 300KW
Maximum frequency: 1-20KHz ,customized according to the workpiece requires.
Maximum input current: 480A
Output current: 30-450A
Output voltage: 70-550V
Input voltage: 380VAC three phases, 50 or 60Hz
Duty cycle: 100%
Auto heating time: 1-99.9seconds
Auto retaining time: 1-99.9sedonds
Cooling water: ≥0.2Mpa ,≥10L/min
Generator size: (L x W x H): 560 x 560 x 1750mm
Generator weight: 240KG
Compensating capacitor size (L x W x H): 1060 x 460 x 670mm
Compensating capacitor weight: 150KG
Main applications:
≤500KG of gold,silver,copper, brass melting.
≤200KG of steel, stainless steel melting.
≤200KG of aluminum , aluminum alloy melting.
heat for matching of shaft into hole.
Heat of steel or brass rod and nut for forging,etc.
Main characteristics:
With IGBT power component and current inverting technology, the output oscillating frequency can range from 1KHZ to 20KHZ and parallel oscillating circuit is used.
small size , compared with SCR controlled machine, only 1/10 working space is needed, greatly reduce occupation space.
High efficiency and energy saving, a high power factor and power efficiency within the scope of full power.
With wide frequency range from 1-20KHZ automatic tracking ability, no need adjustment at scene.
100% duty cycle , 24hours continuous working ability at maximum power.
Constant output voltage or power control modes are alternative;
Full display of output power, output frequency, output voltage and current.
simple operation: operation can be learned in a one minute.
simple installation: connect the machine to 3phase 380VAC and cooling water only.
timer can be chosen to preset and adjusted the heating time, heating power, retaining time, retaining power respectively to control the heating curve and heating temperature.
Advantages of current inverting control technology:
Current inverting control technology ,soft-switching responance dual-control and frequency tracking technology are used to guarantee the smooth working at a large frequency of 1 to 20KHZ.
With the current inverting control technology, parallel oscillating circult is realized that leads the unique characteristics of medium frequency series generator.
with the current inverting control technology, working status of the IGBT can be improved largely, 100% duty cycle can be realized easily to let the machine to work 24hours at the maximum power output.
with the current inverting control technology, the reliability of IGBT can be improved in a great step to decrease the repair largely.
[pdf-embedder url="https://dw-inductionheater.com/wp-content/uploads/2018/10/OT-QINGDAO-INDUCTION-EQUIPMENT-CO.pdf" title="OT-QINGDAO INDUCTION EQUIPMENT CO"]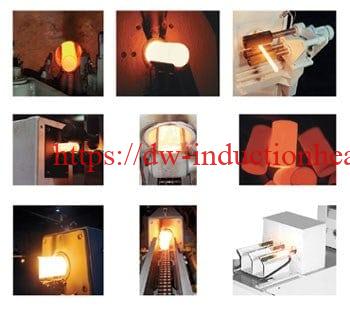 Product Enquiry