Melting Metal Induction Furnace
Categories: Copper Melting Furnace, Gold Melting Furnace, Igbt tilting induction melting furnace, Induction Melting, Induction Melting Furnace, Metal Melting Furnace
Tags: copper induction furnace, Copper Melting Furnace, gold melting furnace, igbt induction furnace, induction furnace, induction furnace manufacturer, induction melting furnace, induction metal melting furnace, induction smelting furnace, melting metal furnace, meting metal induction furnace, smelting furnace, tilting induction furnace, tilting melting furnace
Description
Medium frequency IGBT melting metal induction furnace
Induction Melting Applications:
    Medium frequency melting metal induction furnace are mainly used for the melting of steel, stainless steel, copper, brass, silver, gold, and  aluminium materials, etc.  Melting capacity can be from 3KG to 2000KG.
Structure of the M. F. melting metal induction furnace:
    The induction melting furnace set includes medium frequency generator, compensating capacitor and melting furnace, infrared temperature sensor and temperature controller can also be included if ordered.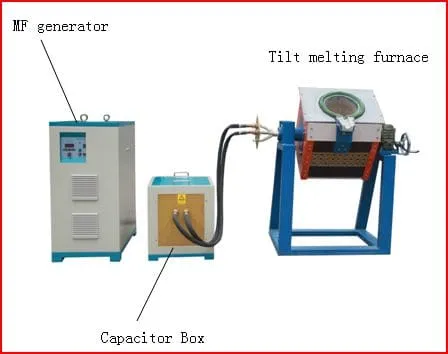 Three types of melting furnaces can be ed according to the way of pouring out, They are tilting furnace, push-up furnace and stationary furnace.
According to the method of tilting, tilting furnace is divided into three kinds:  manual tilting furnace, electrical tilting furnace and hydraulic tilting furnace.
Main features of M.F. melting furnaces:
1. M.F. melting machines can be used for the melting of steel, stainless steel, brass, aluminium, gold, silver and so on.Because of the stirring effect which caused by the magnetic force, the melting pool can be stirred during the melting course to ease the floating of the flux and oxides to produce high quality casting parts.
2. Wide frequency range from 1KHZ to 20KHZ, working frequency can be designed by changing the coil and compensating capacitor according to the melting material, quantity, stirring effect desire, working noise, melting efficiency and other factors.
3. Power efficiency is 20% higher than the SCR medium frequency machines;
4. Small and light, a lot of models can be ed to melt different amount of metals. Not only is it suitable for the factory, but also suitable for the college and researching companies to use.
Main models and melting abilities:
The table below lists the main models and recommended maximum melting abilities. About 50 to 60 minutes are needed to finish one melting process at cool status of the furnace, at hot status of the furnace, only 20 to 30 minutes are needed.
Characteristics of M.F Induction Melting Furnace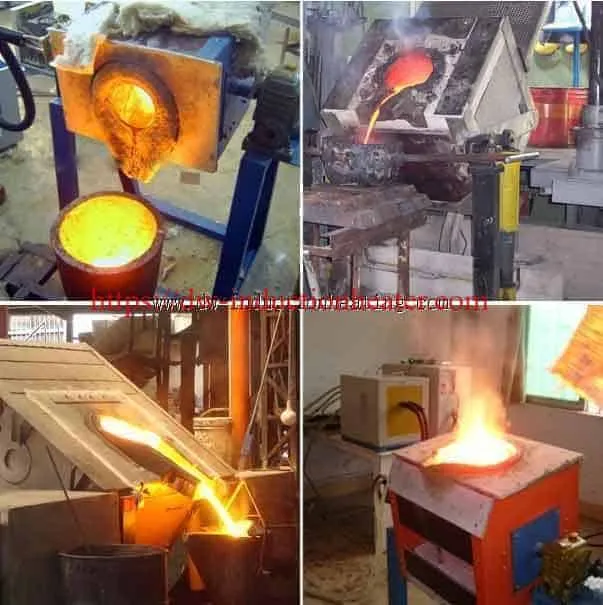 1.  Better Heating penetration and even temperature inside the melting metal.
    2.  M.F field force can stir the melting  pool to achieve better melting quality.
    3.  Melting the Maximum quantity by the recommend machine according to above table the meltingtime is 30-50minutes,the first melting whenthe furnace  is cold ,and it will take about 20-30minutes for the later melting when the furnace is already hot.
    4.  Suitable for melting of steel,cooper,bronze,gold,silver and aluminum,stannum,maqnesium,stainless steel.
Specifications:
Model

DW-MF-15
DW-MF-25
DW-MF-35
DW-MF-45
DW-MF-70
DW-MF-90
DW-MF-110
DW-MF-160

Input power max

15KW
25KW
35KW
45KW
70KW
90KW
110KW
160KW

Input voltage

70-550V
70-550V
70-550V
70-550V
70-550V
70-550V
70-550V
70-550V
Input power desire
3*380 380V±20% 50 or 60HZ
Oscillate frequency
1KHZ-20KHZ,according to the application ,normal about4KHZ、8KHZ、11KHZ、15KHZ、20KHZ
Duty cycle
100%24hours work
Weight
50KG
50KG
65KG
70KG
80KG
94KG
114KG
145KG
Cubage(cm)
27(W)x47(H)x56(L)cm
35x65x65cm
40x88x76cm
Main parts of the induction melting furnace system :
1.  M.F Induction Heating Generator.
  2.  Melting Furnace.
  3.  Compensation Capacitor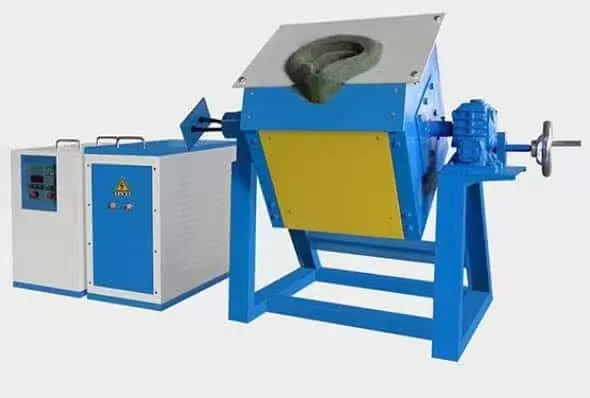 Machine models and maximum melting ability:
| | | | |
| --- | --- | --- | --- |
| Model | Steel and Stainless Steel | Gold,Silver | Aluminium |
| DW-MF-15 15KWMelting Furnace | | 5KG or 10KG | 3KG |
| DW-MF-25 25KW Melting Furnace | 4KG or 8KG | 10KG or 20KG | 6KG |
| DW-MF-35 35KW Melting Furnace | 10KG or 14KG | 20KG or 30KG | 12KG |
| DW-MF-45 45KW Melting Furnace | 18KG or 22KG | 40KG or  50KG | 21KG |
| DW-MF-70 70KW Melting Furnace | 28KG | 60KG or  80KG | 30KG |
| DW-MF-90 90KW Melting Furnace | 50KG | 80KG or  100KG | 40KG |
| DW-MF-110 110KW Melting Furnace | 75KG | 100KG or  150KG | 50KG |
| DW-MF-160 160KW Melting Furnace | 100KG | 150KG or 250KG | 75KG |
Compare with other equipment melting
1, VS resistance heated furnace
a, High heat efficiency ,melting fast.
b,Small size ,save energy 30%.
c, Resistance or silicon carbide stock easy to damage .
2, VS Coal ,Gas ,diesel furnace
a, Facilitate the adjustment solution composition and temperature ,the bubble of foundry less 1/3 to 1/4 ,reject rate down 1/2 to 2/3 ,so that cast have a higher mechanical strength;)
b, Reduced the oxidation of burning;
c, Induction melting can melt scrap of processing and the small pieces because of its electromagnetic stirring effect .reducing the cost of materials .Reduce environmental pollution ;noise is far below the towering equipment .Labor intensity of workers and working conditions have been improved;
d,Cast-iron crucible used in Coal and gas furnace is harmful to the aluminum alloy by increasing impurity. Graphite crucible used in induction melting without such disadvantages.)
3, VS SCR or Frequency Melting Furnace
a,High heat efficiency ,melting fast.
b,Small size ,save energy above 20%.
c,Electromagnetic stirring effect is slight so service life of crucible is extended.
d,By adjusting the frequency to achieve power regulation ,so melting speed fast ,material elements of burning loss less and better energy saving ,in particular the heating of stainless steel ,copper ,silicon ,aluminum and other non-magnetic material ,thus reducing the cost of the casting.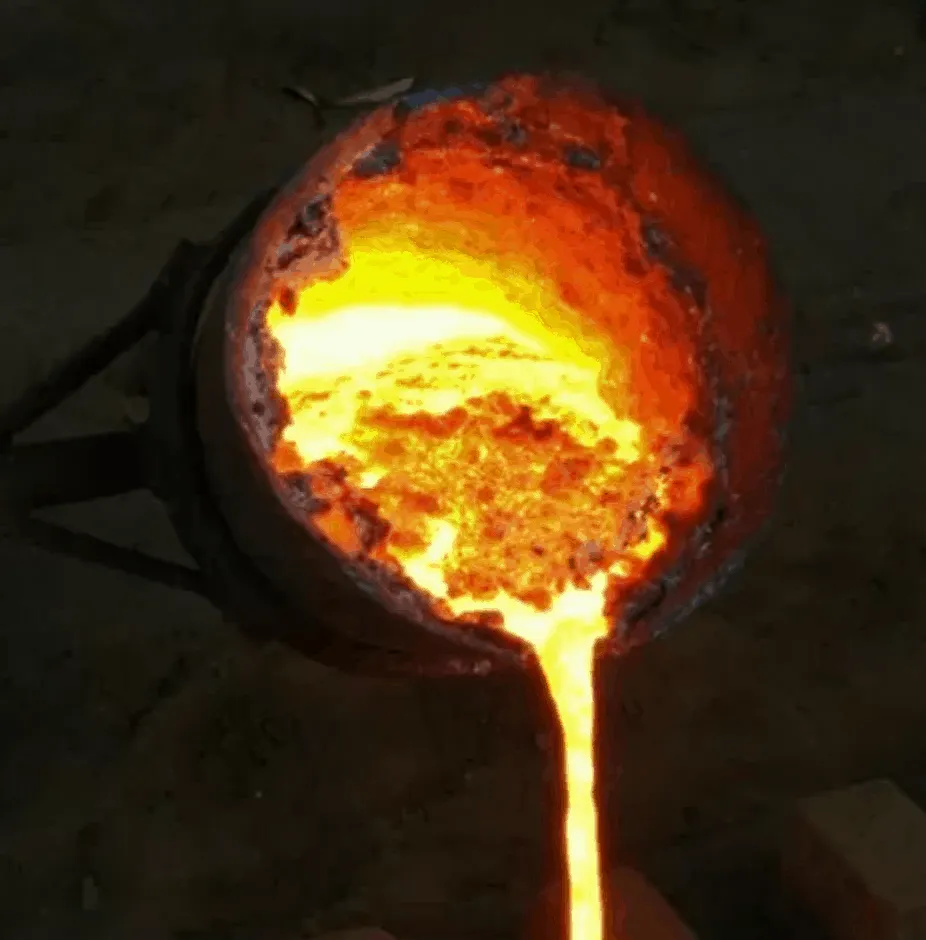 Product Enquiry