handheld induction brazing machine
Categories: Handheld Induction Heater, Induction Brazing, induction brazing machine
Tags: handheld brazing, handheld induction, handheld induction brazer, handheld induction brazing, handheld induction brazing copper, handheld induction brazing machine, handheld induction heating, handheld induction machine, handheld induction solder, handheld induction soldering machine, handheld induction welding machine
Description
handheld Induction Brazing Machine Manufacturer
Items
DWS-10
DWS-30
DWS-60
DWS-100
Max. input power
10KW
30KW
60KW
100KW
Input voltage
3P×380V,50 or 60HZ
Generator size
L50×W30×H45
57L×32W×71H
70L×40W×103.5H
56L×80W×180H
Generator weight
40KG
47KG
120KG
150KG
Heating head size
Φ5.5×22L
Ф8×18.5
Φ12×25L
Ф16×25
Heating head weight
1.5KG
3.1KG
4.5KG
8KG
Cable length
3~8 meters according to order
Cooling desire
>0.3MPa,> 5L/Min
>0.3MPa,> 15L/Min
>0.3MPa,> 30L/Min
≥0.3MPa ≥30L/min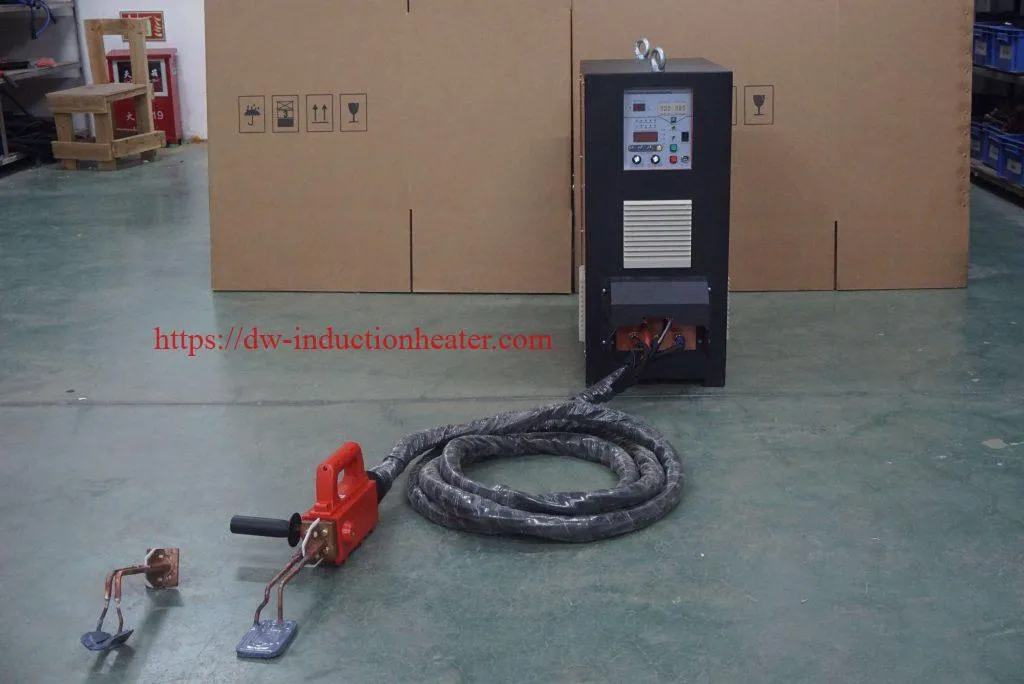 Applications:
Induction Brazing small parts, selective heat treatment, and induction heating in areas requiring a smaller, moveable unit. Used for induction brazing on site such as the induction brazing of copper cable connectors, copper joints in the air conditioner, copper connectors of the transformer and so on.
Characteristics:
By special design, the handheld induction brazing head is small sized and only weights 1.5 to 8 KG, it is especially suitable for the operation on working site when the heated parts can not be moved.
The handheld induction heater is characterized with high reliability and high quality while the IGBT power module and our third generation inverting technology is adopted in the induction heating machine.
The induction heating coil will be designed according to your requests.
Product Enquiry