Industrial Hot Water Heating Boiler With Electromagentic Induction
Category: Induction heating boiler
Tags: buy hot water boiler, electromagnetic hot water heater, electromagnetic water heating boiler, hot water boiler price, hot water heater, hot water induction boiler, induction hot water boiler, induction hot water heater, induction water hot boiler, industrial hot water boilers, industry water heating boiler, water heating boiler
Description
Industrial Hot Water Heating Boiler With Electromagentic Induction-Hot Water Heating Boiler Generator
Industrial Hot Water Heating Boiler with Electromagnetic Induction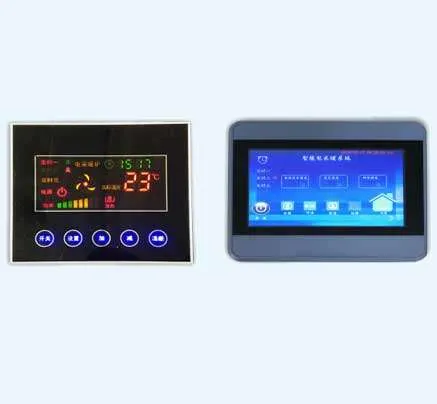 Parameter
 

Items

 

Unit

60KW
80KW
100KW
120KW
160KW
180KW
240KW
240KW-F
360KW
Rated power
kW
60
80
100
120
160
180
240
240
360
Rated current
A
90
120
150
180
240
270
360
540
540
Voltage/Frequency
V/H z
380/50-60
Cross section area of power cable
mm ²
 

≥25

 

≥35

 

≥50

 

≥70

 

≥120

 

≥150

 

≥185

 

≥185

 

≥240

Heating efficiency
%
≥98
≥98
≥98
≥98
≥98
≥98
≥98
≥98
≥98
Max. pressure of heating
Mp a
 

0.2

 

0.2

 

0.2

 

0.2

 

0.2

 

0.2

 

0.2

 

0.2

 

0.2

Min. flow of pump
L/m in
72
96
120
144
192
216
316
336
384
Expansion tank volume
L
60
80
80
120
160
180
240
240
320
Max. heating temperature
℃
85
85
85
90
90
90
90
90
90
Temperature of low temperature protection
 

℃

 

5

 

5

 

5

 

5

 

5

 

5

 

5

 

5

 

5

65ºC hot water output
L/m
19.5
26
26
39
52
58.5
78
78
104
Dimensions
mm
1000*650*

1480

1000*650*

1480

1100*1000*

1720

1100*1000*

1720

1100*1000*

1720

1315*1000*

1910

1315*1000*

1910

1720*1000*

1910

1720*1000*

1910

Inlet/outlet connection
DN
50
50
65
65
65
80
80
100
100
Heating area
m²
480-720
720-960
860-1100
960-1440
1280-1920
1440-2160
1920-2880
1920-2880
2560-3840
Heat dissipation of enclosure
%
≤2
≤2
≤2
≤2
≤2
≤2
≤2
≤2
≤2
Max. volume of heating
L
1100
1480
1840
2200
2960
3300
4400
4400
5866
Heating space
m³
1920-2400
2560-3200
2560-3200
4150-5740
6000-8000
6300-8550
8300-11480
8300-11480
11040-

15300

Electric meter
A
3-phase power meter 1.5-1.6A, metering transformer needs to be installed rationally by professional personnel
Protection grade
IP
33
The Principle of Induction Heating Hot Water Boiler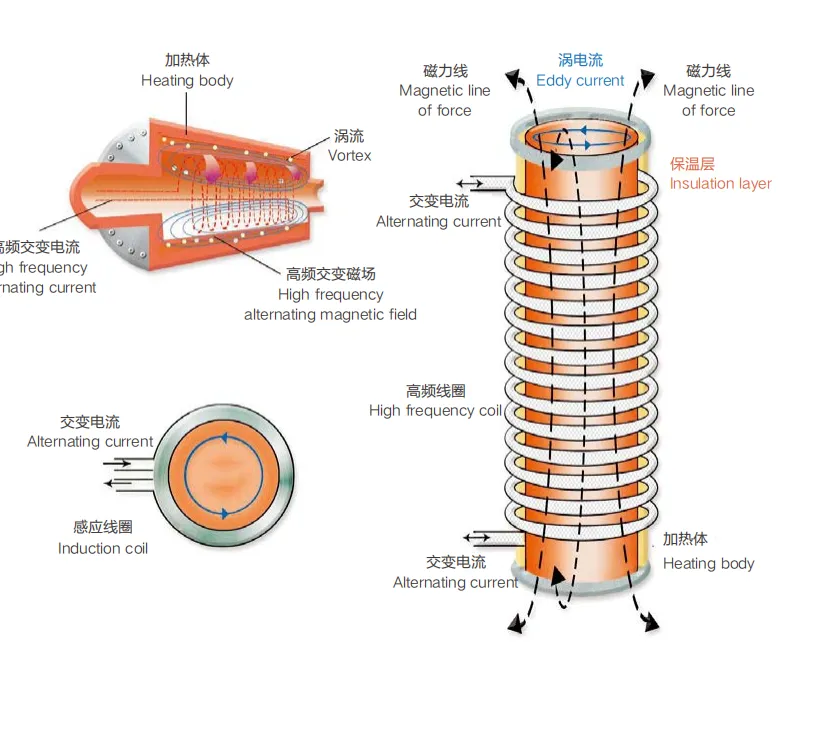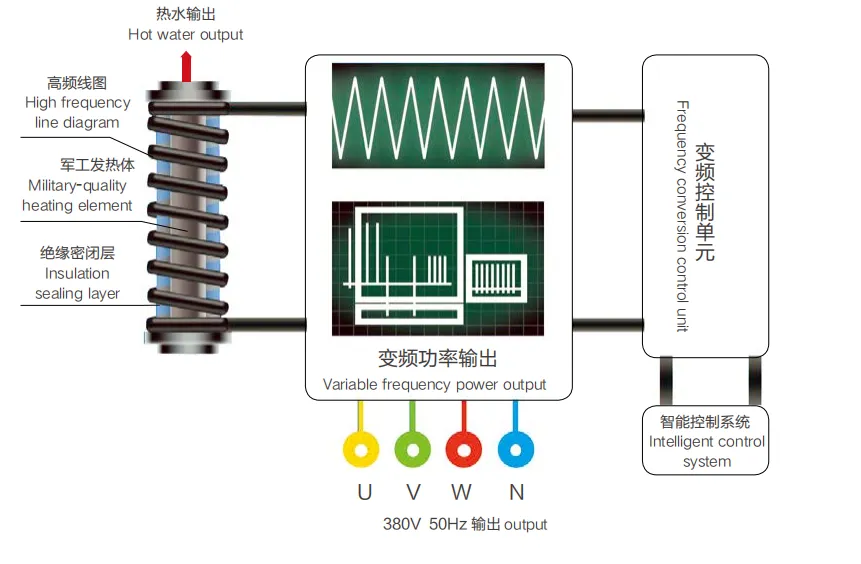 Features
1.Energy Saving
When the indoor temperature exceeds the pre-set value, the central heating boiler will be automatically turned off, thus efficiently saving more than 30% energy. And it can save energy by 20% in comparison with traditional boilers that use resistance heating method.Constant Temperature and Comfortable Space
Water temperature can be controlled within a range of 5~90ºC, and the precision of temperature control can reach ±1ºC, providing a comfortable atmosphere for your space. Unlike air conditioning equipment, induction heating does not create an ideal environment for bacteria to grow.
2.No Noise
In contrast to central heating boilers using air cooling method, water cooled heating boilers are more quiet and unobtrusive.
3.Safe Operation
Utilizing induction heating achieves separation of electricity and water, providing a safer operation. Besides, multiple protection functions such as antifreeze protection, electricity leakage protection, short circuit protection, phase loss protection, overheating protection, overcurrent protection, overvoltage protection, undervoltage protection, self-inspection protection are equipped. Safe usage is guaranteed for 10 years.
4.Intelligent Control
Our induction water heating boilers can be WIFI remotely controlled by smart phones.
5.Easy to Maintain
Induction heating do not constitute the condition of fouling, eliminating the need for fouling removing treatment.
FAQ
Please Contact Our Customer Service before Make a Purchase
About Choosing Appropriate Power
Choosing a suitable boiler based on your actual heating area
For low-energy buildings, 60~80W/m² boilers are suitable;
For general buildings, 80~100W/m² boilers are suitable;
For villas and bungalows, 100~150W/m² boilers are suitable;
For those buildings where sealing performance is not well and room height is greater than 2.7m or people frequently enter, the building heat load is correspondingly increased and the power of central heating boiler should be higher.
About Installation Conditions
What are installation conditions
Take a 15kW induction central heating boiler as an example:
The cross section are of main power cable should not be less than 6mm3, main switch 32~45A, voltage 380V/50, minimum water flow of pump is 25L/min, the water pump needs to be selected according to building height.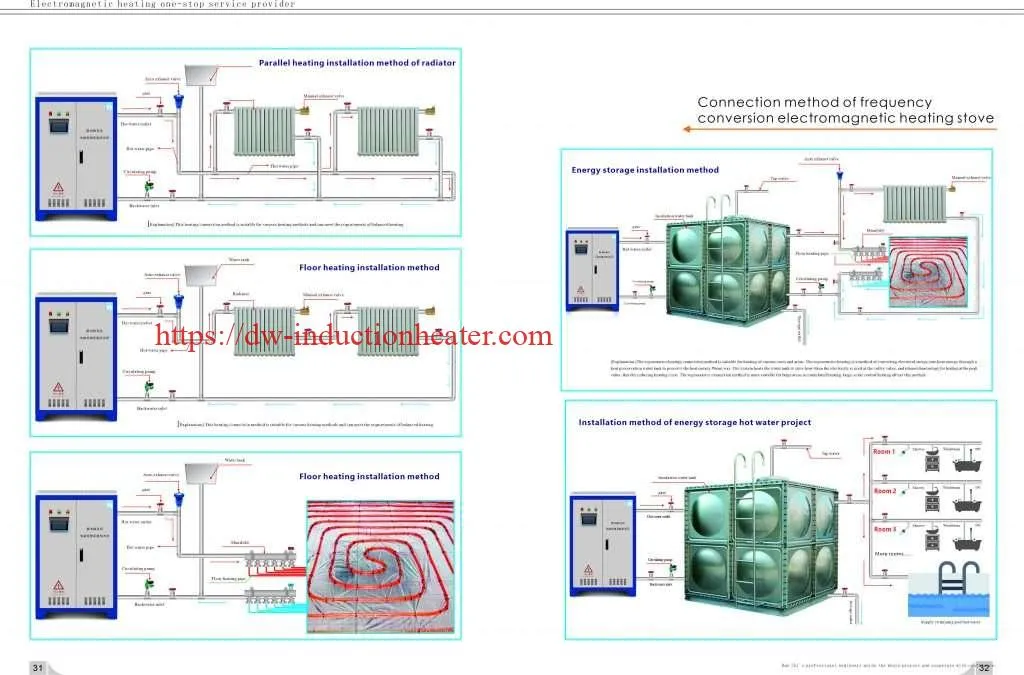 About Accessories
What accessories are required
Since every installation site of customer is different, so that various accessories are required. We only provide central heating boilers, other accessories such as pump valve, piping and union connectors need to be purchased by customers.
About Connections For Heating
What are applicable connections for heating
HLQ's induction central heating boilers can be flexibly connected to floor heating system, radiator, hot water storage tank, fan coil unit (FCU), etc.
About Installation Service
Our products can be installed by our authorized local dealers. We also accept advance reservation, and we designate engineers to offer installation service and technical guidance on site.
About Logistics
Shipping time and logistic distribution
We promise to ship our ready-to-ship products within 24 hours, and ship our made-to-order products within 7-10 days. And the logistics service is based on customers' requirements.
About Service Life
How long is this product's service life
HLQ's induction central heating boiler adopts high-frequency induction coil and industrial grade inverter, all key parts are made of imported high grade materials, its service life can reach 15 years or more.
Product Enquiry