High Frequency Heating Furnace
Categories: Aluminum Melting Furnace, Copper Melting Furnace, Gold Melting Furnace, Igbt tilting induction melting furnace, Induction Melting Furnace, Metal Melting Furnace, Steel Iron Melting Furnace
Tags: HF Heating furnace, HF melting furnace, High frequency furnace, High frequency heating, High Frequency Heating Furnace, High frequency melting furnace
Description
High quality and Top IGBT Small High Frequency Heating furnace manufacturer and supplier in China
---
Characteristics of HF high frequency heating  Furnace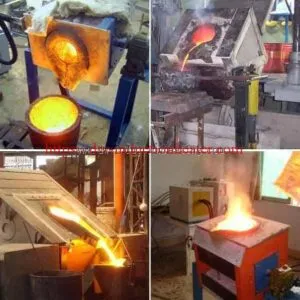 1.  Better Heating penetration and even temperature inside the melting metal.
    2.  HF field force can stir the melting  pool to achieve better melting quality.
    3.  Melting the Maximum quantity by the recommend machine according to above table the meltingtime is 30-50minutes,the first melting whenthe furnace  is cold ,and it will take about 20-30minutes for the later melting when the furnace is already hot.
    4.  Suitable for melting of steel,cooper,bronze,gold,silver and aluminum,stannum,maqnesium,stainless steel.
Specifications:
Model

DW-MF-15
DW-MF-25
DW-MF-35
DW-MF-45
DW-MF-70
DW-MF-90
DW-MF-110
DW-MF-160

Input power max

15KW
25KW
35KW
45KW
70KW
90KW
110KW
160KW

Input voltage

70-550V
70-550V
70-550V
70-550V
70-550V
70-550V
70-550V
70-550V
Input power desire
3*380 380V±20% 50 or 60HZ
Oscillate frequency
1KHZ-20KHZ,according to the application ,normal about4KHZ、8KHZ、11KHZ、15KHZ、20KHZ
Duty cycle
100%24hours work
Weight
50KG
50KG
65KG
70KG
80KG
94KG
114KG
145KG
Cubage(cm)
27(W)x47(H)x56(L)cm
35x65x65cm
40x88x76cm
Main parts of the high frequency induction metals melting furnace system :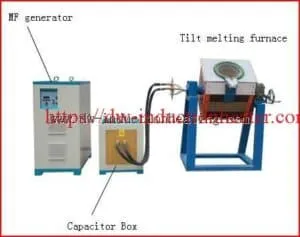 1.  M.F Induction Heating Generator.
  2.  Melting Furnace.
  3.  Compensation Capacitor
Machine models and maximum melting ability:
| | | | |
| --- | --- | --- | --- |
| Model | Steel and Stainless Steel | Gold,Silver | Aluminium |
| DW-MF-15 15KWMelting Furnace | | 5KG or 10KG | 3KG |
| DW-MF-25 25KW Melting Furnace | 4KG or 8KG | 10KG or 20KG | 6KG |
| DW-MF-35 35KW Melting Furnace | 10KG or 14KG | 20KG or 30KG | 12KG |
| DW-MF-45 45KW Melting Furnace | 18KG or 22KG | 40KG or  50KG | 21KG |
| DW-MF-70 70KW Melting Furnace | 28KG | 60KG or  80KG | 30KG |
| DW-MF-90 90KW Melting Furnace | 50KG | 80KG or  100KG | 40KG |
| DW-MF-110 110KW Melting Furnace | 75KG | 100KG or  150KG | 50KG |
| DW-MF-160 160KW Melting Furnace | 100KG | 150KG or 250KG | 75KG |
induction-heating-catalogue.pdf
Product Enquiry