MFS medium frequency heating systems
Categories: Induction Power Supply, Medium Frequency Series
Tags: medium frequency, medium frequency annealing, medium frequency forging, medium frequency heater, medium frequency heating, Medium frequency heating device, medium frequency heating machine, Medium frequency heating power, Medium frequency heating system, Medium frequency hot forming, medium frequency melting, medium frequency preheating
Description
medium frequency induction heating systems and heating power supplies
Medium frequency induction heating systems (MFS series) are acetized by frequency range 500Hz~10KHz and power100~1500KW,they are mainly used for penetrated  heating, such as rod heating for shaping, melting, fitting and preheat for welding. Due to its wide frequency range, satisfied heating effect is easily achieved by design to considerate all factors such as penetrating desire, heating efficiency, working noise, magnetic stirring force and so on.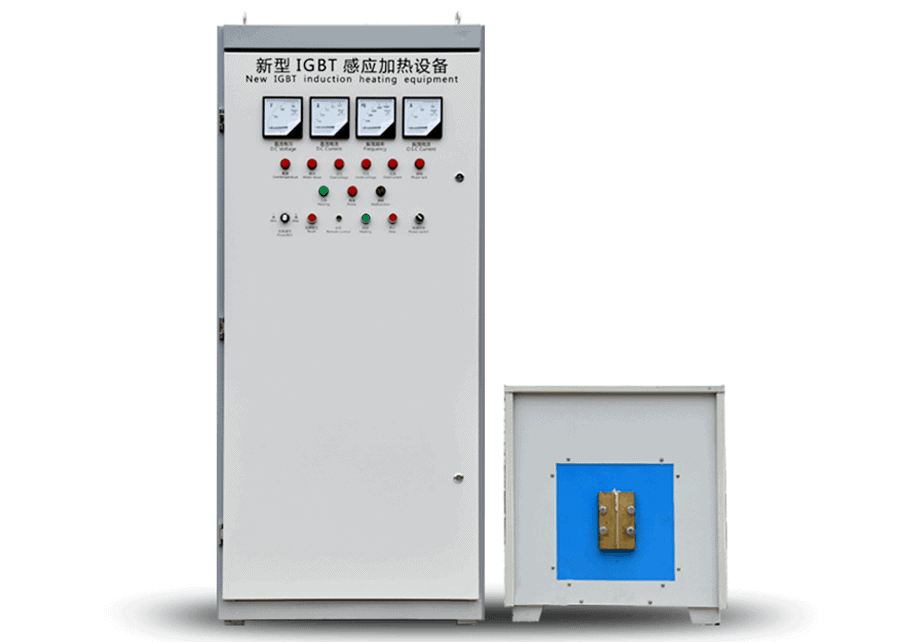 In MFS medium frequency machines,parallel oscillating structure is used . IGBT module power components and our fourth generation inverting control technologies are applied to ensure high quality and reliability. Fully protection is adopted such as over current protection, water fail protection, over temperature protection, over voltage protection, short circuit protection and phase fail protection.  When working, output current, output voltage , oscillating frequency and output power are all displayed on the operating panel to help in the design of the coil and adjust of the machine.
According to different usage, two main structures are used:
(1) structure 1 :MF generator + capacitor + coil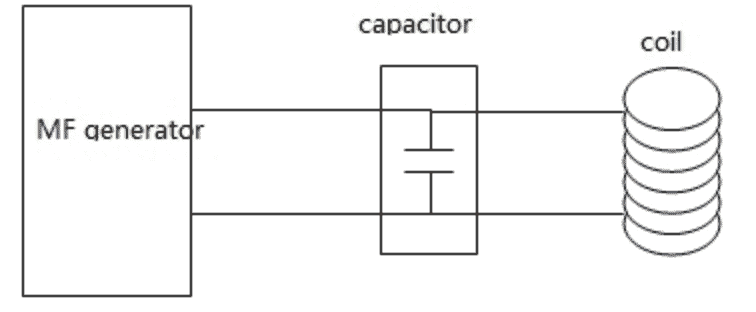 This structure is adopted often in many uses, such as rod induction heating machine and melting machine.  This structure is simple, low lost and high efficient in heating.
In this structure, usually  3 to 15 meters copper tube is needed to make the coil;  voltage of the coil  is high to 550V, and not isolated to the power supply system, so coil must be insulated properly to ensure the safety of operators.
(2)structure 2:MF generator + cap + transformer + coil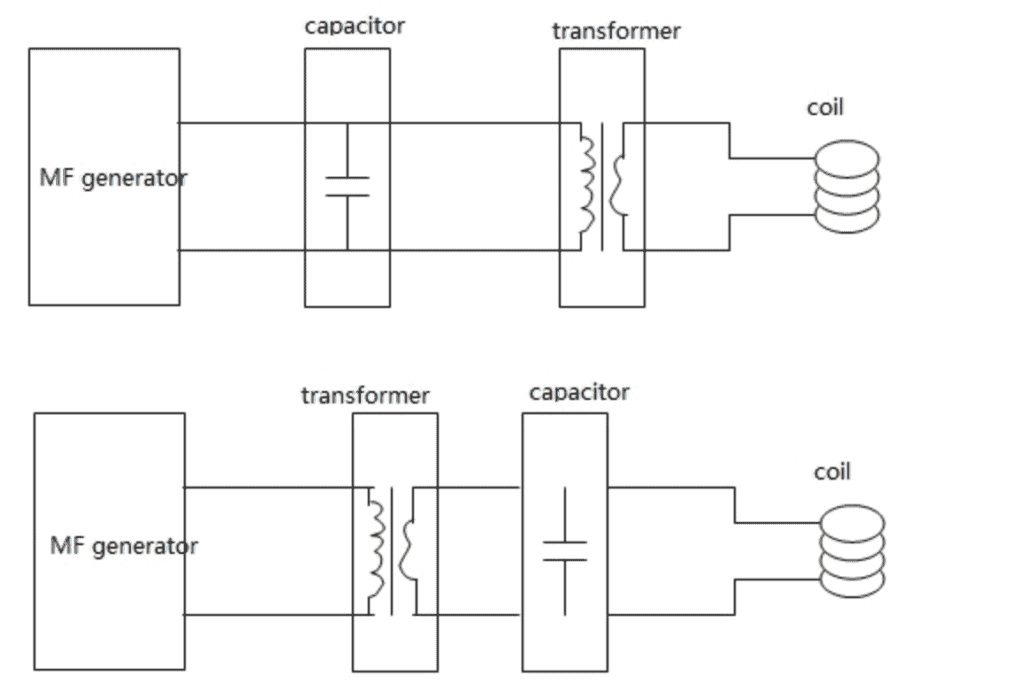 This structure is also used often, such as melting in vacuum, medium frequency induction hardening machine and so on.   Through the design of transformer ratio,  output current and voltage can be controlled to satisfy different heating desire.
In this structure,  coil is safe for operators,  coil tube can exposed directly with out insulation.  Coil is easy to make with only a few turns. Of course, transformer will increase the cost and consumption the machine.
Specifications
Models
Rated output power
Frequency rage
Input current
Input voltage
Duty cycle
Water flow
weight
Dimension
MFS-100
100KW
0.5-10KHz
160A
3phase 380V 50Hz
100%
10-20m³/h
175KG
800x650x1800mm
MFS-160
160KW
0.5-10KHz
250A
10-20m³/h
180KG
800x 650 x 1800mm
MFS-200
200KW
0.5-10KHz
310A
10-20m³/h
180KG
800x 650 x 1800mm
MFS-250
250KW
0.5-10KHz
380A
10-20m³/h
192KG
800x 650 x 1800mm
MFS-300
300KW
0.5-8KHz
460A
25-35m³/h
198KG
800x 650 x 1800mm
MFS-400
400KW
0.5-8KHz
610A
25-35m³/h
225KG
800x 650 x 1800mm
MFS-500
500KW
0.5-8KHz
760A
25-35m³/h
350KG
1500 x 800 x 2000mm
MFS-600
600KW
0.5-8KHz
920A
25-35m³/h
360KG
1500 x 800 x 2000mm
MFS-750
750KW
0.5-6KHz
1150A
50-60m³/h
380KG
1500 x 800 x 2000mm
MFS-800
800KW
0.5-6KHz
1300A
50-60m³/h
390KG
1500 x 800 x 2000mm
Main characteristics
Voltage feedback design and adopt IGBT based LC series resonance circuit .
IGBT inversion technology ,high energy conversion over 97.5% .
Energy saving 30%up compared with SCR technology. In series resonance circuit, induction coil with high voltage and low current, so energy loss is very low. Soft switch technology applied then switch loss is very low.
It can be started up 100% under any condition.
100% duty cycle , 24hours continuous working ability at maximum power.
Less harmonic current and high power factor. Power factor always remaining 0.95 above during machine running.
The frequency tracking automatically technology enables power factor to remaining high level throughout heating process.
Good reliability, IGBT is a self turn-off transistor that ensures inversion with success and takes protection instantly; IGBT used from infineon company, world-renowned manufacturer.
Easy to operate and maintain, IGBT MF induction generator is easy to prevent and maintain due to its simple circuit structure. It has perfect protection.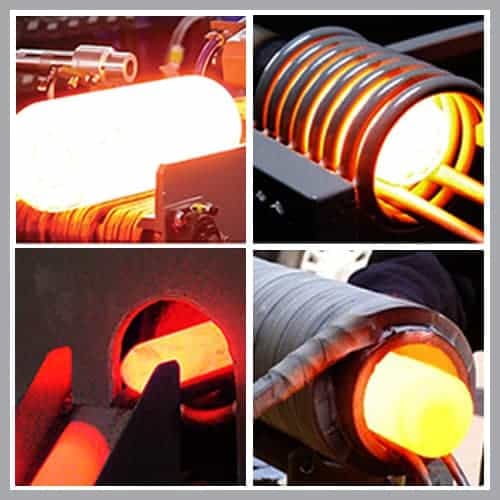 Options
A range of heating furnace, customized different type of induction heating furnace according customer's requires.
Infarared sensor.
Temperature controller.
CNC or PLC controlled mechanical fixture for hardening application.
Water cooling system.
Pneumatic rod feeder.
Customized whole automatic heating system.
Main applications
Hot Forging/forming for large workpiece.
Surface hardening for large part.
Preheating of pipe bending.
Annealing of pipe welding.
Melting of copper aluminum and so on.
Shrink-fit of sleeve of roller.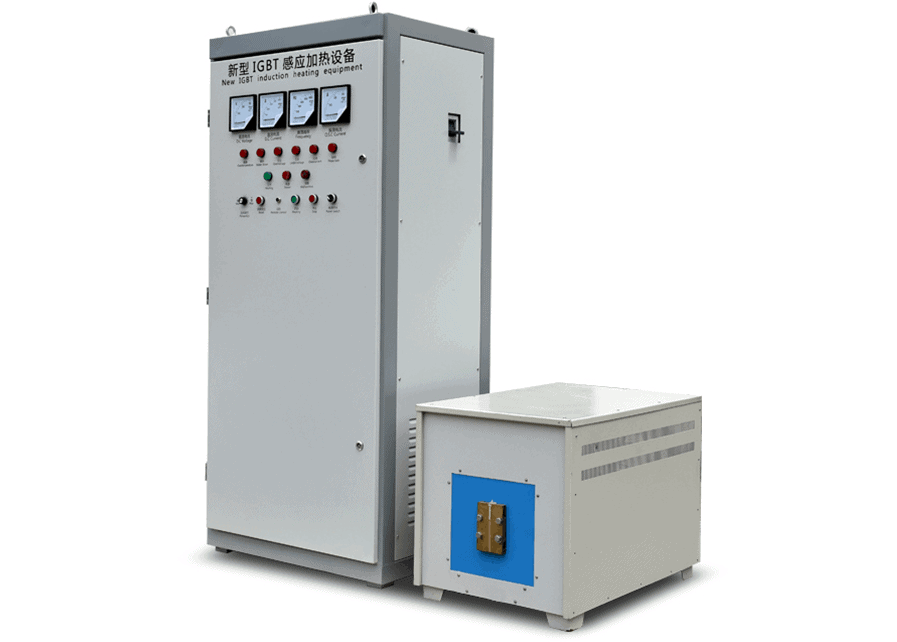 Product Enquiry