brazing copper to stainless steel
Categories: Applications, Induction Brazing, induction brazing machine
Tags: brazing copper to stainless steel, copper induction brazing heater, copper pipe brazing, copper pipe HF brazing, induction brazing copper pipe, induction brazing copper to steel pipe, induction brazing copper tube, induction brazing copper tubing, Induction Brazing Machine, induction brazing units
Description
Objective
Induction Brazing copper pipe to stainless steel pipe. Cryogenic Pumps and Housings.
Equipment
DW-HF-15kw/25KW/45KW induction heating equipment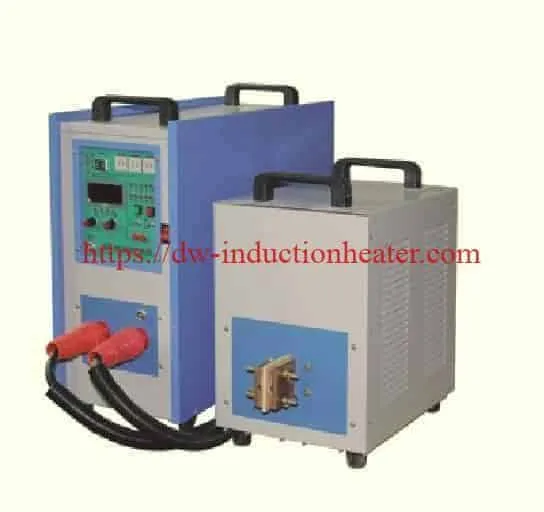 Results and Conclusions:
Test 1: Test started with much lower power and ramped up to 25 kW after 15 seconds. The induction brazing was successful.
Recommended to use a tighter coil that wraps around only half of the copper cap. This would concentrate the heat at only the location of where the alloy is and should decrease the heat time.
Test 2: Test was done with an oversized coil due to clearance issues created by the lip on the part.  The approximate time for full cycle is 20 to 30 seconds. The lower frequency seemed to be beneficial for the application by causing the field to penetrate deeper past the copper and into the steel itself, resulting in quicker heat times.
Test 3: Test was done with 14 kW to simulate the time cycle necessary for our DW-HF-15KW induction heating system. This part will require the longest heat time due to the mass of the copper. Heat times can be decreased by using a larger power supply.
The heat times for all the tests can be improved upon by optimizing the induction heating coils for the specific parts and by lowering the frequency. A temperature controller and pyrometer are strongly recommended to ensure no damage is done to the parts if going with a larger induction system. If using a 15kW induction heating system, the temperature controller and pyrometer are still recommended but the risk of part damage is reduced.
Product Enquiry