Application of induction aluminum melting furnace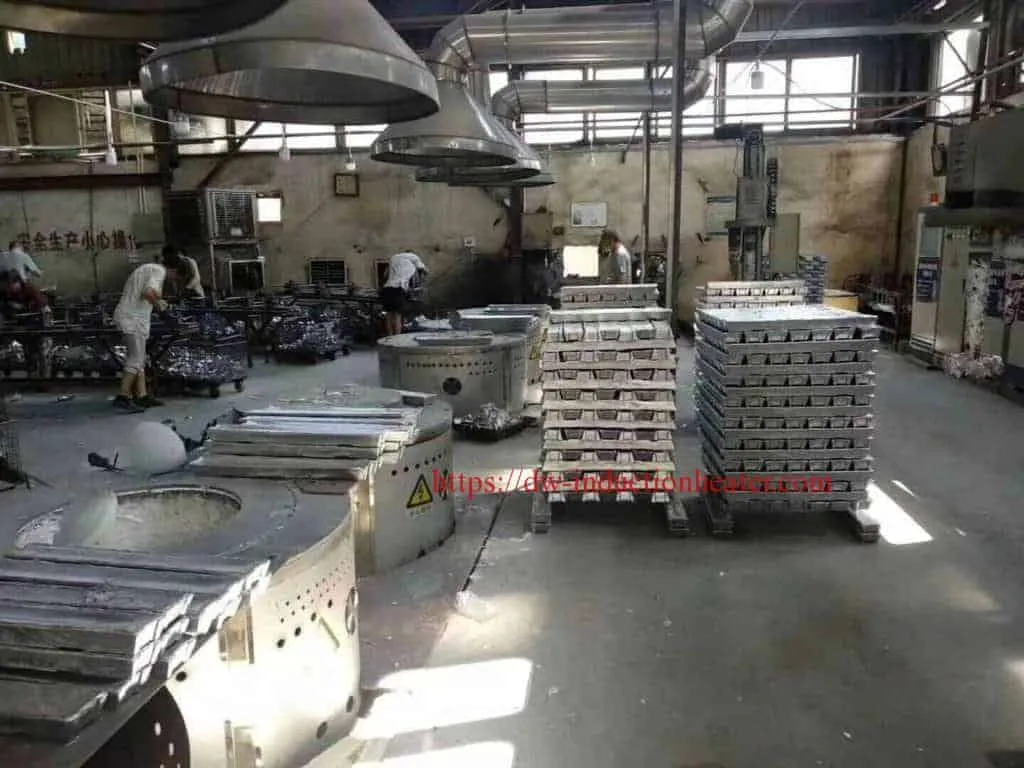 The melting furnace, designed as channel induction furnace, has a total holding capacity of 50 t and a useful
pour–off weight of 40 t maximum. The meltdown power is produced by four inductors mounted at defined angles on
the furnace floor with a total connected load of 3,400 kW. Each inductor features its own tapped transformer for individual control operations.
In the event of failure of one inductor, the others hold the hot heel at temperature while the faulty inductor is
being replaced. The furnace is again ready for production operations after a period of 12 hours. The molten metal is
poured out through the furnace bearing and can be transferred at zero gradient to the holding furnace at the rate of 4 t/h. The holding–and–casting furnace also accepts the melt through the furnace bearing. This enables the metal to be returned to the melting furnace if required, likewise at zero gradient.
Inductor Service Life and Replacement Time
The service life of an inductor depends on the installed capacity, the type of cooling system, the shape of the channel, and the type of ceramic lining. Service lives of 250 days are reported for air–cooled inductors rated at 250 kW, but of only 100 days for 400 kW ratings. In both cases, the metal throughput was approximately 1,600 t aluminum.4
By improving the cooling effect and type of ceramic lining, it is possible for 400–kW inductors to attain life factors of
250 days and more with metal throughputs of 2,500 t/inductor. However, service lives of only 100 days are also not unknown. Another operating plant reports service life factors of 15–27 months.
Higher inductor ratings of 900 kW and more with production rates of 30 t/day per inductor, necessitating directed
flow of the metal and intensive cooling, have not yet been in operation for any length of time. Initial experience showed that vigorous flow causes erosion in the vertical channels.
Even though it was not necessary to clean the channels, the desired service life of the inductor was reduced. Further improvements have been made by slowing down the directed flow and by providing a more stable water cooling
system, which gives hope for attaining service life factors of 12 months for the high–power inductors.
Aluminum scrap can be processed in various melting units:
• direct–heated furnaces (gas or oil–fired) with heat recovery facilities
• induction melting furnaces, channel or crucible type.
The choice of unit is determined primarily by availability and form of energy and production costs.
The present supply of fuel calls for us to re–evaluate its future availability. It is to be expected that rising fuel prices will also entail an increase in the price of substitute energy— electricity— in which case thought must be given
above all else to the optimum utilization of that form of substitute energy. Here, the induction furnace offers a
high–power input utilization factor, since heat is generated by electrical induction directly in the bath.
Rising labor costs in the industrialized countries and higher metal prices oblige us to remelt even low–grade, light–gauge scrap and to employ a melting unit where the essential factors that determine processing costs are low, namely energy costs, melt losses, maintenance costs, and labor costs.