Induction Steam Generaor
Categories: Induction heating boiler, Induction Steam Generator
Tags: buy induction steam generator, buy steam boiler, electromagnetic induction steam generator, induction heating steam boiler, induction heating steam generator, induction steam boiler, induction steam generator, induction steam generator price, induction water vapor boiler, induction water vapor generator, steam boiler, steam boiler price, steam generator, steam heater
Description
The principle of induction steam generator|induction steam boiler|induction heating steam boiler
This invention relates to an electromagnetic induction steam generator which operates with a low-frequency alternating current electric power source. More specifically, this invention relates to an electromagnetic induction steam generator which is compact and highly efficient being capable of continuous operation, intermittent operation and empty-heating operation.

Steamers in current use, such as cooking steamers, convection ovens, cooking steam warmers, steamers for defrosting frozen food, steamers for processing tea leaves, steam baths for household use, steamers for cleaning, and steamers used in restaurants and hotels, are widely used as equipment for utilizing the steam they generate.Generally, fossil fuels (gas, petroleum, crude petroleum, coal and so forth) are burned as heat sources for large steamers in current use. This heating method, however, is not economical for compact steamers.
Relatively compact steamers in current use commonly employ electrical resistance heaters as a heat source. Such steamers obtain steam intermittently by spraying water on an iron plate which has been heated in advance with a heater or the heater's protecting tube from inside or beneath the plate.
Energy saving rate of electromagnetic induction steam generator:
Because the iron container heats itself, the heat conversion rate is particularly high, which can reach more than 95%; the working principle of electromagnetic steam generator is that when some water enters the container, it will be heated into steam Drain, to ensure a fixed way of replenishing water, there will be continuous steam utilization.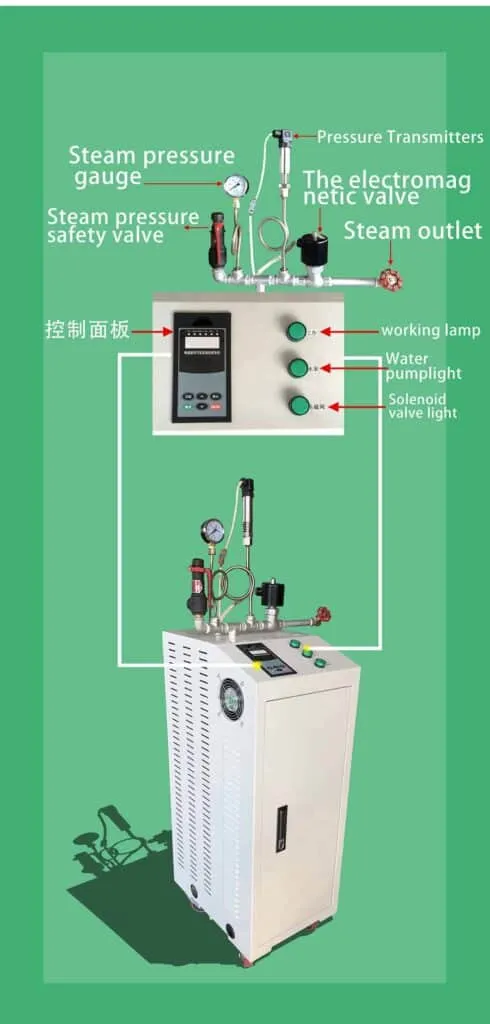 Product Description
Industrial quality high pressure steamist boiler pure steam generator from china manufacturers
1) LCD Full-Automatically Intelligent Electronic Control System
2) High-quality Core Component——Electromagnetic induction heater
3) High-quality Components and Parts——Famous Brand Delixi Electrical Appliance
4) Multiple Safety Interlock Protection
5) Scientific Design and Attractive Appearance
6) Easy and Rapid Installation
7) Magnetic induction coil heat up boiling water Generate steam – Is Much More Eco-Friendly and Economical
8) Wide Application Range
Item content / model
Rated power

(KW)

Rated steam temperature

(℃)

Rated current

(A)

Rated steam pressure

(mpa)

Evaporation

(kg/h)

Thermal efficiency

(%)

Input voltage

(V/HZ)

Cross section of input power cord

(MM2)

Steam outlet diameter

Relief valve diameter
Inlet diameter
Drainage diameter
Overall dimensions

(mm)

HLQ-10
10
165
15
0.7
14
97
380/50HZ
2.5
DN20
DN20
DN15
DN15
450*750*1000
HLQ-20
20
165
30
0.7
28
97
380/50HZ
6
DN20
DN20
DN15
DN15
450*750*1000
HLQ-30
30
165
45
0.7
40
97
380/50HZ
10
DN20
DN20
DN15
DN15
650*950*1200
HLQ-40
40
165
60
0.7
55
97
380/50HZ
16
DN20
DN20
DN15
DN15
780*950*1470
HLQ-50
50
165
75
0.7
70
97
380/50HZ
25
DN20
DN20
DN15
DN15
780*950*1470
HLQ-60
60
165
90
0.7
85
97
380/50HZ
25
DN20
DN20
DN15
DN15
780*950*1470
HLQ-80
80
165
120
0.7
110
97
380/50HZ
35
DN25
DN20
DN15
DN15
680*1020*1780
HLQ-100
100
165
150
0.7
140
97
380/50HZ
50
DN25
DN20
DN25
DN15
1150*1000*1730
HLQ-120
120
165
180
0.7
165
97
380/50HZ
70
DN25
DN20
DN25
DN15
1150*1000*1730
HLQ-160
160
165
240
0.7
220
97
380/50HZ
95
DN25
DN20
DN25
DN15
1150*1000*1880
HLQ-240
240
165
360
0.7
330
97
380/50HZ
185
DN40
DN20
DN40
DN15
1470*940*2130
HLQ-320
320
165
480
0.7
450
97
380/50HZ
300
DN50
DN20
DN50
DN15
1470*940*2130
HLQ-360
360
165
540
0.7
500
97
380/50HZ
400
DN50
DN20
DN50
DN15
2500*940*2130
HLQ-480
480
165
720
0.7
670
97
380/50HZ
600
DN50
DN20
DN50
DN15
3150*950*2130
HLQ-640
640
165
960
0.7
900
97
380/50HZ
800
DN50
DN20
DN50
DN15
2500*950*2130
HLQ-720
720
165
1080
0.7
1000
97
380/50HZ
900
DN50
DN20
DN50
DN15
3150*950*2130
Application of induction steam generator|induction heating steam boiler: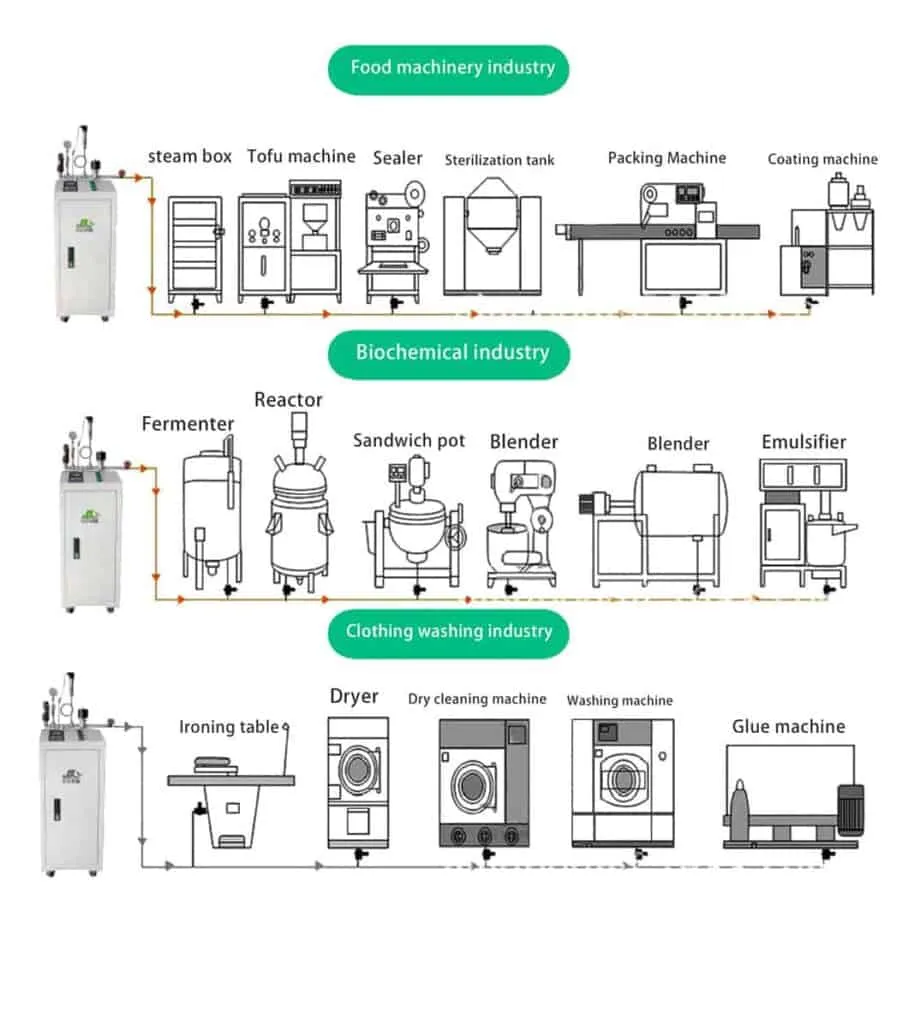 Product Enquiry