Induction Heating Barrel for Plastic Extruder and Injection Molding Machine
Categories: electromagnetic induction heater, Heat Plastic Processing Machinery
Tags: barrel, barrel heater, buy induction barrel heater, IH barrel, IH barrel for extrusion, induction barrel heater, induction barrel heater price, induction heat barrel, induction heat barrel for injection molding, induction heat barrel machine, induction heating barrel, induction heating barrel for extruder, magnetic heating barrel, magnetic heating barrel system
Description
Induction heating barrel offers greater energy savings, reliability, and faster response.
Spectacular energy savings, superior reliability and much faster response than conventional heater bands are some of the advantages offered by a newly developed induction heating system. The heating system uses electromagnetic induction – an old and well-known principle used to heat large industrial furnaces, special machines for injection moulding molten metal, thermoset molds, and some Japanese hot-runner nozzles. However, it is a relatively new concept for heating barrels of plastics extrusion and injection molding machines.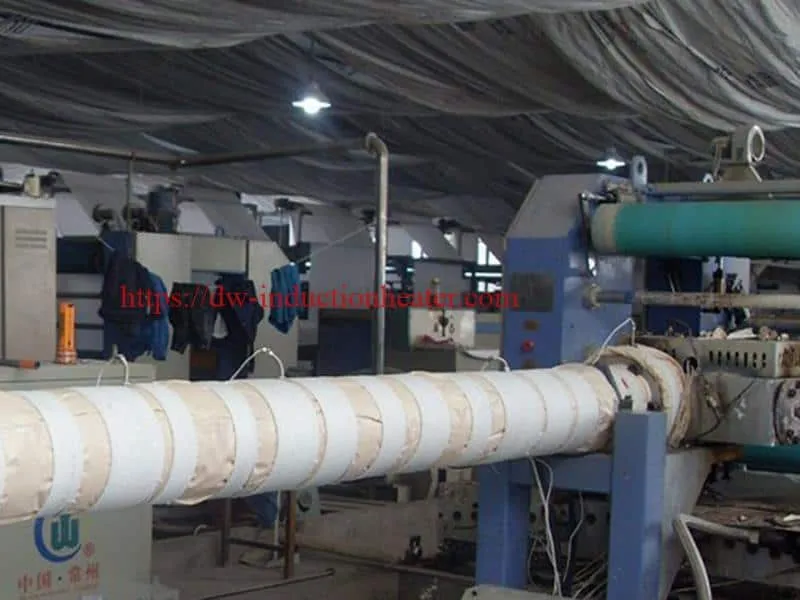 The electromagnetic induction heating system, introduced by HLQ induction equipment Co from China turns the steel barrel itself into a resistance heater by generating electrical eddy currents in the metal near the outer surface of the barrel tube. Those eddy currents are induced by electrical current passing through a cable wrapped in a continuous coil around the barrel but not touching it. Although the initial cost is more than heater bands, induction heating reportedly pays for itself in several ways, and also at a faster pace, depending on machine size. Laboratory measurements indicate that the heating efficiency (relative to energy consumed) of typical mica band heaters at 200-300 degree C processing range (common in injection moulding) is likely to be only 40-60%, while that of a ceramic band heater may be 10-15% higher. The remaining energy is wasted by radiation and convection to the surrounding environment. What's more, a new mica band loses about 10% of its initial efficiency after the first 6 hours of use because it darkens, raising its surface emissivity and consequent radiation losses. At higher barrel temperatures for engineering resins, efficiency drops even more.
In contrast, HLQ measures induction heating efficiency at about 95%. Radiation losses are minimized by the insulating sleeves, which rise to a temperature of around 60-70 degree C during operation. The low-resistance induction coils remain cool enough to touch.

Where can induction heating barrel?
It is mainly applied to injection, extrusion; blow filming, wire drawing, granulating and recycling machines, etc. The product application includes film, sheet, profile, raw material etc. It can be used for heating the barrel, flange, die head, screw and other parts of the machines. It is excellent in energy-saving and cooling down work environment.
Induction heating is the process of heating an electrically conducting object (usually a metal) by electromagnetic induction, where eddy currents are generated within the metal and resistance leads to Joule heating of the metal. The induction coil itself does not get heated. The heat generating object is the heated object itself.


Why and how induction heating barrel can save energy?
Presently,most of the plastic machines are using the conventional resistance heating method, where the resistance wire is heated up and then transfer the heat to the barrel via heater cover.So only the heat close to the barrel surface can be transferred to the barrel and the heat close to outside heater cover is lost to the air which causes a rise in environment temperature.
Induction heater is technology where high frequency magnetic fields which cause he be heated up bu electro-magnetic field(EMF)that are brushing against each other.When the barrel is heated up and heat is minimum,there is very high heat efficiency and minimum heat loss to the environment where energy saving could reach30-80%.Due to the fact that the induction coil is not producing any high heat and also there is no resistance wire that gets oxidized and causes the heater to burn out, the induction heater has a longer service life and also less maintenance.
What are the advantages of induction heating barrel?
Energy efficiency 30%-85%
Currently, plastic processing machinery mainly uses resistance heating elements which can produce a large amount of heat radiated to the surroundings. Induction heating is an ideal alternative to solve this issue. The surface temperature of induction heating coil ranges between 50ºC and 90ºC, the heat losses are significantly minimized, providing energy savings of 30%-85%. The energy saving effect is therefore more obvious when the induction heating system is used in high power heating equipment.
Safety
Using induction heating system enables the surface of the machine to be safe for touching, and that means it can avoid burn injuries which often occur in plastic machines that use resistance heating elements, providing a safe workplace for operators.
Fast heating, high heating efficiency
Compared to resistance heating whose energy conversion efficiency is approximately at 60%, the induction heating is over 98% efficient at converting electricity to heat.
Lower workplace temperature, higher operation comfort
After using induction heating system, the temperature of entire production workshop is lowered by more than 5 degrees.
Long service life
In contrast to resistance heating elements that have to long-lasting work at high temperature, the induction heating works at near ambient temperature, therefore efficiently prolonging the service life.
Accurate temperature control, high product qualification rate
The induction heating provides low or no thermal inertia, so that it will not cause the temperature overshoot. And the temperature can remain at set value of 0.5 degree difference.
What is the superiority of induction heating barrel for plastic extrusion compared with traditional heaters?
Induction heater
Traditional heaters
Heating method
Induction heating is the process of heating an electrically conducting object (usually a metal) by electromagnetic induction, where eddy currents are generated within the metal and resistance leads to Joule heating of the metal. The induction coil itself does not get heated. The heat generating object is the heated object itself
Resistance wires get heated directly and heat is transferred by contact.
 heating up time
Quicker heating-up, higher efficiency
slower heating-up, lower efficiency
 Energy saving rate

 Save 30-80% energy rate,reduce working temperature

Cannot save energy
 Installation
 Easy to install
Easy to install
 Operation
 Easy to operate
Easy to operate
 Maintenance

Control box is easy to replace  without turning off your machine

Easy to replace but have to turning off your machine

Temperature  Control
Small thermal inertia and precise temperature control because the heater doesn't get heated byitself.
Big thermal inertia, low accuracy in temperature control
 Product Quality
 Higher product quality because of precise temperature control
Lower product quality
 Safety

 Outer sheath is safe to touch, lower surface temperature, no electric leakage.

 Temperature on outer sheath is much higher, easy to get burned. Electric leakage under wrong operation.
Service life of heater
2-4years
1-2 years
Service life of Barrel and Screw

Longer usage life for barrel, screw etc. due to lower frequency of changing heaters.

Shorter usage life for barrel, screw etc.

 Environment
Lower environment temperature;
No noise
Much higher environment temperature and much noise
Induction Heating Power Calculation
In the case of knowing the heating power of existing heating system, selecting an appropriate power according to load rate
Load rate ≤ 60%, applicable power is 80% of the original power;
Load rate between 60%-80%, select the original power;
Load rate > 80%, applicable power is 120% of the original power;
When the heating power of existing heating system is unknown
For injection molding machine, blown film machine and extrusion machine, the power should be calculated as 3W per cm2 according to the actual surface area of the cylinder (barrel);
For dry cut pelletizing machine, the power should be calculated as 4W per cm2 according to the actual surface area of the cylinder (barrel);
For wet cut pelletizing machine, the power should be calculated as 8W per cm2 according to the actual surface area of the cylinder (barrel);
For example: cylinder diameter 160mm, length 1000mm (i.e. 160mm=16cm, 1000mm=100cm)
Cylinder surface area calculation: 16*3.14*100=5024cm²
Calculating as 3W per cm2: 5024*3=15072W, i.e. 15kW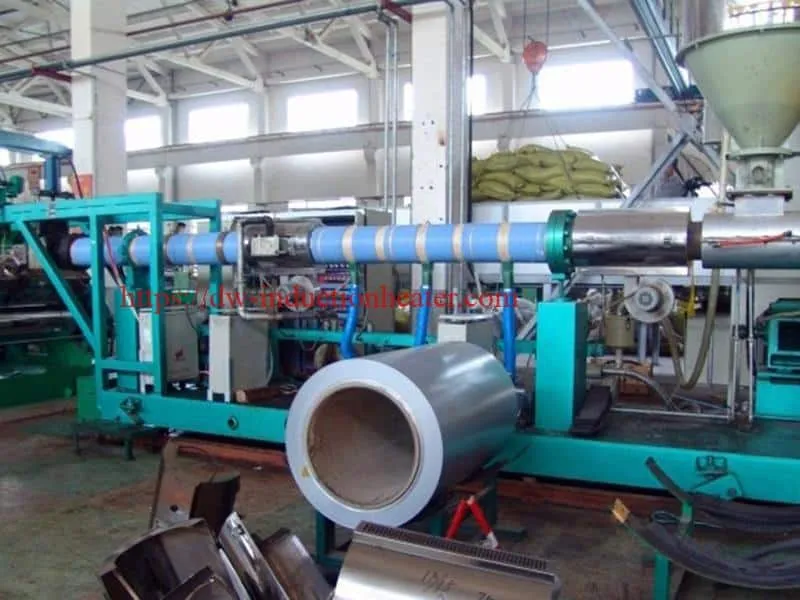 Product Enquiry